SXDNS: Thank you very much for agreeing to speak with us, Ed. It is a privilege. We are big admirers of your work. For those who are not familiar with your career, tell them about your mission on Earth and a little bit of who Ed Mahon is.
EM: First of all, thank you for having me and for the kind words, I'm also a big fan of SXDNS so the feeling is mutual, it was an honour to be involved in your mix series, thanks!
Briefly… first DJ club gig in 1992 aged 16, been at it ever since! Started Cowbell Radio in 2011 with Chinny, started producing in 2016. Musically I've always been into house music but have a huge love for downtempo music and disco too. Anything with soul will make me smile but I'm equally comfortable on a lazy sunset session or some loud filthy acid bleeps in a dark seedy basement.
My mission? Well, I guess I just love to share good music with people, it's a pleasure and privilege to be able to share great music and make people happy, making great memories along the way! Right now, more than ever, I guess, we should all be grateful for those shared experiences and I know everyone is the same right now… cannot wait to get out of lockdown and go back to the dance floor again!
SXDNS: When did you guys come up with the Cowbell Radio idea and what forces drive you to keep it running with such a high standard when it comes to the kind of music it is offered? And please, don't tell us the name comes from the popular catchphrase "more cowbell".
EM: Ha ha ha, no, it's not! As funny as that sketch is, the name was already chosen by Chinny as it represents his love for the DFA sound (Rapture, LCD) and the classic hip hop sounds that were all cowbell-heavy!
In the early days of Cowbell, there was a lot of that music, and as Chinny is a bit older than me he was also into the punk-funk, guitar side of things. When we joined forces, I was all about house music at the time, so we complemented each other well.
As we grew and started to put on our own nights, we came into contact with some great producers, and being part of those early ALFOS nights meant we were lucky enough to catch the slow chuggy acid house sounds that were starting up and they have slowly taken over our shows and sound. We still keep it varied though, that will always be something we are conscious of.
Our standards… well it's fair to say we don't present to a high standard (professionally unprofessional) but we've always stuck to playing underground music and supporting new sounds. I think it also helps that we are pretty honest… we only play what we like and even if a tune is sent by a good pal, if we don't think it works, we won't play it.
SXDNS: What are the next steps for Cowbell? Any future secrets you can anticipate?
EM: When we started, we had a studio in Blackpool and Leeds, with dozens of live shows every week but that was unsustainable. We've always self-funded because we refuse to advertise (we hate radio ads), so despite our early delusions of grandeur we've scaled it down and now the whole station lives in my spare room! Also, when we started, Chinny and I did everything nearly full time and were always on air, but now he has moved to London and is doing Alfresco full time. We only average one live show a month when he comes back up North. 
Thankfully, the lockdown has presented itself with an opportunity for me to be at home more and keep Cowbell running 24/7, giving people something to listen to throughout. I started a daily breakfast show just as a way of helping people with a bit of lockdown routine and although I've stopped that now it was amazing to see how much it meant to people, so maybe there will be some more live shows from me. I still have to balance it with the day job… I won't bore you with it, but I am a key worker, so am lucky to be working through lockdown, however, that also means I have limited time for family, and then music.
Our 'Cowbell takeovers' have been well received too, we've had full 24-hour schedules dedicated to some of our favourite labels (NEIN, tici taci, Sprechen, Paper) and also some of our favourite artists (Rich Lane, Psychemagik, 2 Billion Beats). I guess once things are back to "normal" we'll plan some more Cowbell sounds, events, live shows, etc.
SXDNS: What about the Alfresco Festival? We know the world is paused, but do you still have hope to make it happen this year?
EM: It's difficult as you know but we are always working away in the background to adapt, trust me. Chinny and Nicky literally dedicate their whole lives to sorting this and making it work. Whenever I speak to him on the phone, even if we ring just to talk about football, we end up discussing music, potential Alfresco acts, thoughts on venues, up and coming acts… he never switches off! We can't say anything just yet, but trust me, there are contingency plans in place for all eventualities and already some wicked plans for 2021 too!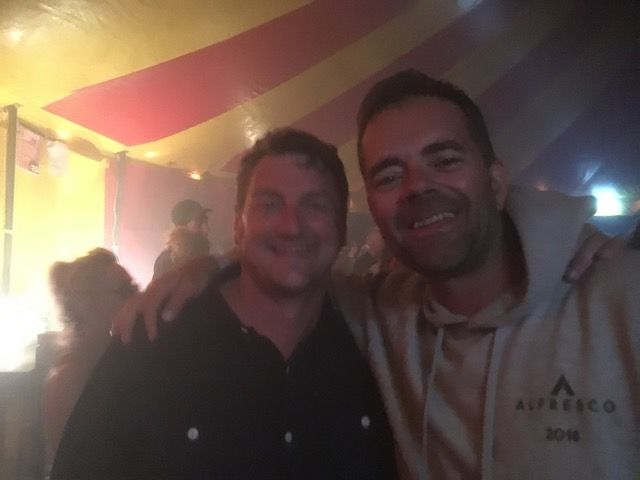 SXDNS: That's good to hear. By the way, who came up with the "fun for the entire family" concept of the festival? Do the kids behave? Do the adults behave?
EM: Chinny. He took his young lads to a festival a few years back and couldn't believe how much the kids got charged for everything once they were inside, and with that the seed was planted. In 2011, when we started Cowbell, we had a party for friends and family in a field in Blackpool and the rest is history!
Yeah, adults definitely behave, we've always been blessed with a very cool crowd, slightly older and genuinely there for the love of the music and the vibe. I've got no doubt that is why we've been going so long, and as cheesy as it sounds, it really does feel like one big family.
SXDNS: Silly moment: Define 2020 in one word.
EM: Refresh.
SXDNS: In your opinion, who is the best football player of the world: Cristiano, Lionel, or Bobby?
EM: Well, for me Messi is the greatest ever, just his highlights reel alone, it is incredible! He handles himself excellently and he is a joy to watch.
However, if you ask me who I'd build my team around, Bobby Firmino 100%… just ask any Liverpool fan! He epitomises the hard-working number 9 we've always loved from Ian Rush to Robbie Fowler, and he is the glue that holds this incredible Liverpool team together. He is a true Klopp player, we're so lucky to have them both. So selfless, so hard-working, such a great team – ethics and attitude, yet he is still able to dazzle with his skill (and his teeth)!
For an old school fan like me, that is the ultimate team player, quite the opposite of that other fella you asked me about. I respect his achievements, but I truly detest his vanity, his antics and I would never have someone like him in my dressing room. Give me Leo or Bobby any day though
SXDNS: And what about Ed Mahon, the producer? Anything cooking in the oven?
EM: Plenty! Thanks! Just this week I had two new releases, one on the mighty Sprechen label, "A Brighter Day", which is a chilled remake of my first release, very laid back and showcasing the piano talents of a very talented friend of mine, Davos. The other release is one of my first solo creations, "Anymore", out on Higher Love, such great artwork and video too. I've just read the BanBanTonTon review, as brilliant as ever:
"Ed Mahon's "Anymore" is far from chilled. '80s freestyle percussion, a moody, slightly malevolent b-line grounding dark metallic drones, and a gothic vocal. Like Bauhaus do house, it's the sort of thing I imagine Razormaid playing with".
Also, there is a new edits EP out soon on Alpaca that I have co-produced with a talented young producer called Heritage. One of the tracks is a Donald Byrd edit (such a big fan of him) and it has been getting a lot of airplay from the legend himself Graeme Park! There is another remix in the pipeline, can't say much yet but it's with two artists I have a lot of respect for. Oh yeah and I have some new darker sounds I've been working on when time allows, and there will be some more Heritage collaborations on the way soon! The best way to keep up is to follow my website.
Click HERE to visit Ed's page.
SXDNS: Who are your inspirations? I mean for everything.
EM: Oh wow, so many! I guess for me there are 2 that spring to mind: Stevie Wonder is my all-time hero and the greatest living human being. The great unifier, bringer of happiness and amazing sounds. I mean, where do I begin? The talent, the longevity, overcoming so much adversity, learning all those instruments when you can't even see! Also James Brown, not only for his unique talent but his creativity, his drive and his work ethics… "the hardest working man in show-business".
The amount of amazing and ground-breaking music they made and the joy and inspiration they bring is awesome, I am so lucky I've been able to see them both perform live, and being able to take my boy to see Stevie was awesome. I love the stories about them and how they overcame so much hardship too, they (like so many other amazing artists of that era) also had to deal with the racism like they did, but their talent and dignity shone through.
In today's era, I take similar pleasure and inspiration from Joey Negro and Crazy P. They have both stood the test of time and always deliver the goods, always stayed ahead of the curve and I gobble up all of their songs, productions and remixes the minute they come out.
For live performances I was always blown away by the energy of a Prodigy gig, and the Chemical Brothers are so far ahead of anyone, they are in a different stratosphere! Again the ability to stay relevant and pioneering through the decades is something I really admire.
On a darker tip, I think Damon Jee recently has been unparalleled in terms of quality and quantity. There are so many, but his sounds have always been right up my street.
Regarding DJs, I respect all the DJs who graft and work hard to keep up with the huge amounts of new music, but I've never been one for DJ worship. When people say I'm going to 'see' a DJ, I always get a bit confused, surely you want to hear them, but why do you want to see an old man stood around pushing buttons (or even worse, trying to dance… trust me, you don't wanna see me dancing)!
SXDNS: Feel free to share a top five with us. It can be a selection of your favourite tracks of all time or the ones you are most enjoying at the moment.
EM: All time is impossible for me so maybe my current top 5:
One of my all-time favourites given a loving rework. Hard to put into words how much I love the original and the people involved, so I was sceptical when I saw the remix package. Sure enough I really didn't like the first couple I heard, but then this came on and stopped me dead in my tracks for nearly 13 minutes… stunningly beautiful!
Another classic getting a rework! This remix is simply awesome! Beefed up for 2020 but keeping the Mondays' magic, Ewan Pearson has delivered possibly the dance floor hit of the year!
The second release from mysterious "super band" Boy Division, this is an absolute monster from tici taci… the piano is awesome, one for the dance floor.
Another one hot off the press, courtesy of another ace label, Emerald & Doreen. This is a great track/EP but once again Technobeton has delivered a killer remix, one of the stars of 2020 for me. If you asked me to pick a song from this year that epitomised the Cowbell sound, it would be this one.
Another classy EP from tici taci with more ace and talented people involved. A great track with wicked vocals from none other than Jon 'Fluke' Fugler and a whole host of top remixes. For me, Peza's remix is the perfect blend of the original with just the right amount of sleaze, acid and downtempo coolness to keep you singing along, tapping your feet and then before you know it your ass is shaking along too!
Follow Ed Mahon on SoundCloud and check the incredible selection he prepared for our mixtape series, peeps!