SXDNS: We had the opportunity of meeting personally in Frankfurt in February 2019, when you played on the very first event promoted by SXDNS, and I confess that I became an even greater admirer of your work after I saw you performing. When we did that 5-hour B2B set in your second visit in October, this admiration grew bigger. When did you wake up with the idea of becoming a DJ? Did you have any specific inspiration or was just the love for music that brought you to behind the decks?
SH: I've never had any intention to be a DJ or Producer. I didn't even want to be a musician. But in one moment of my life I realized that being a musician is my destiny. I started to play piano when I was 7 years old. When I was in high school, I started to learn how to play the guitar from my mom. With some friends we made a band and did several gigs together. I also started to produce computer game music. Then when I was in college I joined the classic guitar circle and then DJ circle. Music was always close to me but never for my principal life. But after I learned how to play as a DJ, music was getting bigger and bigger part of my life. I started to make my own parties, to produce my own music, I moved to other countries, I made my own label… So that's how I got here now.
SXDNS: What about the producer career? When and how did you start? Are your cats an annoyance when you are on your work station?
SH: I started to produce music when I was in high school. My high school was kinda special, (in my country) we have 4 majors: Cartoon, Animation, Film, Computer Game Programming. And my major was Computer Game Programming. When we made our project, we realized that we need sound and music, so I started to make game music. After high school I didn't make any music, but after 2 years as a DJ I started producing again. And my cats always love my sound. They sometimes have a nap on the soundcard (it's really warm and cozy when I'm working! haha). Just watching these sleeping cat gives me a lot of energy.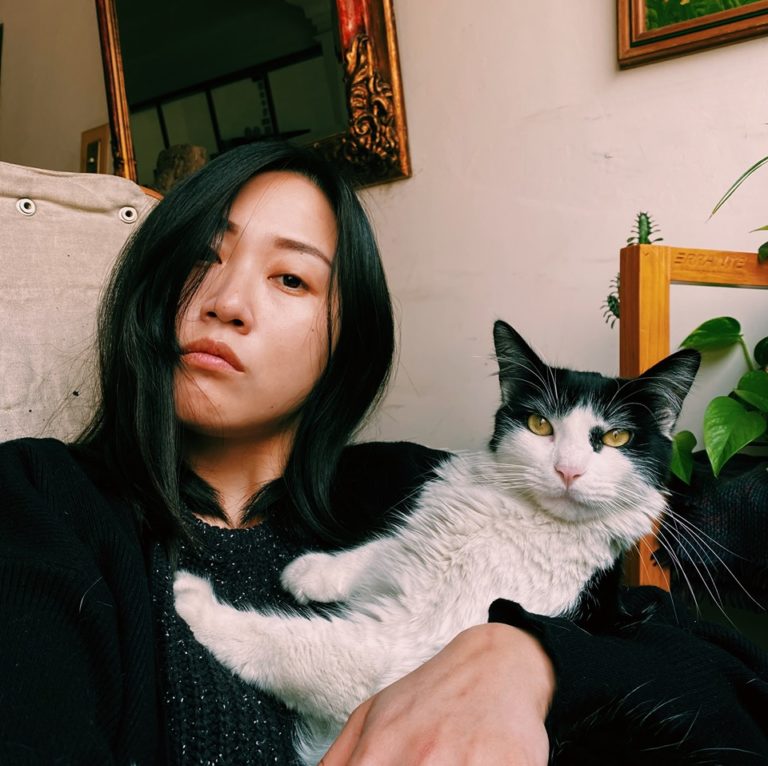 SXDNS: Your label, Uju Records, has been drawing some attention due to the high quality of the releases. I am referring not only to the elevated standard of the music, but also to the artwork (it's quite impressive). Tell us everything that is not confidential about your label. Even the meaning of the name. 
SH: In Korean, 'uju'(우주) means cosmic. I made this label to show people how I think about cosmic disco. Actually, the real cosmic disco (70s-80s psychedelic disco) is quite far from my music style. So I wanted to define my own cosmic disco by inviting my favorite cosmic disco artists. (Some artists who gave me the idea of cosmic disco)  Our art director, Daryung Kim, is a great painter that uses Korean traditional styles. We met each other around 5 years ago, and I've always admired her work. When I decided to make my own label, I was only thinking about her as an art director. We both are Korean, we both are girls and we both are doing art. 
SXDNS: What are Uju's next steps?
SH: There are so many artists I want to invite, but I decided our label would never have over 2 tracks per release (one original + one remix). If I want to invite an artist, I need to make a new track. It's not easy, but on the other hand this rule pushes me to make more music, so I love it this way.
Check the releases of the label HERE.
SXDNS: And what are Shubostar's next steps? Do you have a main goal?
SH: I don't have a main goal. I just want to do what I can do step by step. Making new original tracks, making remixes, making podcasts, playing music in better places. Maybe one thing I wish is having a good house with good people and then some cats.
SXDNS: Which do you prefer: Tequila or Mezcal?
SH: No doubt, Mezcal.
SXDNS: What is your top 5? (The most influential tracks which define your music education or that bring you good recollections)
SH: Here we go:
SXDNS: Do you think the electronic music scene is sexist or misogynistic? Have you ever felt diminished by a promoter or club owner or even a random person in the middle of the crowd just for being a woman? If so, how do you see your role against such hatred?
SH: One thing I feel sad for female artists is that people easily say their success is not from their effort. Always a lot of rumours follow famous female artists. For example: They have ghost producers, they have sugar daddy (WTF?!), they slept with famous promoters that's why they could play at famous clubs and festivals etc.
I also got some (personal examples). Being a Female-Asian is like being in war every day. I've been fighting racism and sexism all my life. But after I started to settle down, some brainless people started to say, "You can play in many places because you are an Asian girl. Asian girl in this scene is quite unique, that's why you have more gigs than others.". Seems like people don't want to accept the girl's effort. But generally, I don't think we have sexism or racism in the music scene that much. I can see the world changing! People just love someone if someone is good. I started to find my freedom in the music scene. 
SXDNS: How was Burningman?
SH: Burningman was something. When I got there I already felt unreal. I understood why people call it MARS. I still remember the first sunset in BM. Full of pink and orange, I've never seen this kind of colour in a sunset, and costumed people riding bicycles made my feeling more unreal. People say BM is not a festival, it's a community. I totally agree. I met a lot of amazing people there. Especially our Mayan Warrior crew. We had dinner together, drank together and partied together the whole week. We are still in contact because they are everywhere in the world. The experience of playing in Mayan Warrior art car was memorable. The powerful sound system made the car move a lot, professional razor system, world best photographers, world best ravers too haha. It was the biggest gift of 2019.
Follow Shubostar on SoundCloud and check the incredible selection she prepared for our mixtape series, peeps!