SXDNS: I have to start by thanking you for agreeing to talk to us at such short notice and telling you that it is a great honour to count on you as a collaborator on our humble platform. In times like these, full of artists with airs and graces, having someone with your magnitude on board means a lot to us. Do you think younger artists need to focus more on their craft, instead of on their image, so that we can have more and more high-quality content being produced?
SC: Always the craft if you're serious about making good work… Image priority is for the pop world.
SXDNS: Is there anything Steve Cobby cannot do? You are a multi-instrumentalist, producer, label boss, DJ, photographer… I bet you used to ace football or rugby back in the day.
SC: Haha. Thanks. I think most people are creative given the opportunity. Do anything for long enough and you get good at it. Creativity is like occupational therapy for me.
SXDNS: The apple doesn't fall far from the tree: I saw the other day that your son did his debut as a DJ. How was it? You must be very proud.
SC: I am happy as long as my kids are happy. Whatever they choose to do. He's a good DJ but he's sensible enough to know it's not a career choice.
SXDNS: Do you consider your work – along with David McSherry – as Fila Brazillia your biggest contribution to music or is there something else cooking in the oven?
SC: I've recorded and released nearly 500 songs but obviously the Fila stuff is the most widely recognised so it had the biggest impact.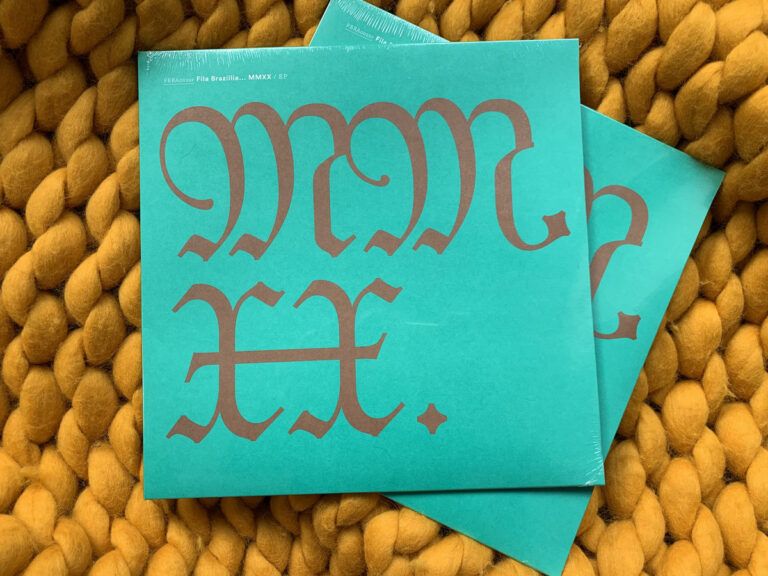 SXDNS: Is MMXX the final chapter of the beautiful story you guys started writing in 1990 or the first one of a new beginning?
SC: Were already halfway through the next EP.
Click HERE to check Fila Brazilia's MMXX EP.
SXDNS: That's definitely good news! I remember when I listened to "A Touch of Cloth" for the first time at a friend's house in Brazil in the beginning of the 2000s. He found the CD while travelling through Europe and, to be honest, he told me he bought it solely with the intention of infuriating his mother-in-law. He thought she would hate the cover (a Jesus-like character smoking – maybe a joint) – and he was right, the goal was achieved. Since then I had this curiosity regarding the name of the project, and I cannot miss the opportunity:. Did you guys named it after anything related to my country? What's the meaning of it?
SC: Mr McSherry and I would get together to experiment every so often and Porky heard one of the tunes we wrote and asked to release it, but we didn't have a name for the project or the song. I was listening to the radio one day and an MP came on the radio proposing the ban of a dangerous dog called a Fila Brasileiro. But I misheard it and suggested we call the project Fila Brazillia.
SXDNS: I observe on your social networks that you are really engaged when it comes to politics. Do you think – in obscure times like these – artists should be more active and take a stand?
SC: 100% yes! Not so much in their music but certainly with their actions. So many artists are worried about upsetting their record label or publisher that they remain tight lipped.
SXDNS: A book that you recommended – and that I loved –, David Edwards and David Cromwell's "Propaganda Blitz", kind of makes us think the future will be even more dusky than the present. Are you reading something interesting at the moment or "just" focusing on making music?
SC: I'm currently reading Sapiens by Yuval Noah as I'm a lover of all things anthropological. Then 'Fully Automated Luxury Communism' by Aaron Bastani is next in the reading pile that I don't shrink quickly enough.
SXDNS: What is your favourite part about working in the music industry? And what is your least favourite? Why?
SC: The music is my favourite part; the industry is my least. I adore creating, I abhor trying to sell it. Constantly pushing yourself on to folk in a desperate attempt to get them to pay for your crafts. Like constantly shouting 'Look at me!'… After 30 years of making music it has never changed.
SXDNS: I guess you will hate to answer this: But what is your top five of all times? The tracks that defined Steve Cobby as an artist and a human being.
SC: Beach Boys, Stevie Wonder, Abba, Led Zeppelin, Bill Nelson, Cabaret Voltaire, The Comsat Angels, Magazine, Marvin Gaye, Pink Floyd, New Order, David Bowie, The Last Poets, Phillip Glass are a few of the main influences I had as a boy and young man. I developed catholic taste early on and wanted to hear as much variety as possible. I couldn't whittle it down to specific tracks, though.
Follow Master Steve Cobby & Fila Brazillia on SoundCloud and check the incredible selection he prepared for our mixtape series, peeps!